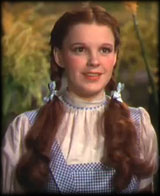 Judy Garland as Dorothy in The Wizard of Oz (1939)
Judy Garland emerged as a superstar in her own right for her extraordinary performance in The Wizard of Oz. Nearly turning 17, she was probably the most popular young actress on Earth, receiving more fan mail than any star at MGM. Still under contract with MGM, they swiftly made use of their talented young star and cast her in more films, each one using her beautiful singing voice.

In 1939 during Hollywood's Golden Year and throughout the 1940's, Judy Garland was kept busy performing in many classic musical films. Throughout the 1950's and most notably in the early 1960's she made enormously successful appearances in television, radio and live concert appearances.

In addition, Judy Garland also recorded countless albums and toured scores of army camps during WWII. But her films were an important part of her career. Nearly all of Judy Garland's movies at MGM were major hits, and nearly all of them broke all box office attendance records (including her own).

Many Hollywood stars made more movies than Judy did, but movies were not the only things she did during her career as we have already mentioned. However, she still appeared in nearly 40 films in a short 13 year period from 1937 to 1950, and a few more movies onwards. It must be remembered that nearly all of Judy's movies were musicals, which are the most demanding of movies, requiring not only acting but also singing and dancing.

To keep up with a frenetic pace of making one film after another, Judy Garland was constantly given amphetamines, as well as barbiturates to take before bed time. This constant dose of drugs would lead to addiction and a lifestrong struggle for Judy Garland as well as her eventual demise. She did manage to break her habit many times, but often started up again when the pressures of a new film came along. It should be noted that many actors and actresses of Judy's era also used drugs as well.

Judy Garland worked almost non-stop, and in her later life resent the hectic work and feel that her youth was stolen from her by MGM, and she was plagued with self doubt throughout life and needed constant reassurance that she was beautiful and talented, in spite of filling concert halls to hear her, high critical praise, and several awards.

Judy Garland's other famous movies after completing her duties with The Wizard of Oz (1939) include Babes in Arms (1939), Meet Me in St. Louis (1944), The Harvey Girls (1946), Easter Parade (1948), A Star is Born (1954), and Judgment at Nuremburg (1961), just to name a few.

Nothing beats The Wizard of Oz when we look back at Judy Garland's career. It's not the first film that she performed in, but it's the film that really opened the door for Miss Garland, and marked the start of her stardom.