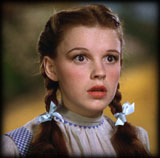 Judy Garland as Dorothy in The Wizard of Oz (1939)

American singer and actress, and The Wizard of Oz star Judy Garland visited many countries for a live concert tour in the 1950's and 60's. It should also be noted that she also continued to make various television, radio and a few more film appearances during those years, so she had quite a busy lifestyle.

Judy Garland's concert tours included:
London, Manchester, Birmingham (England)
Glasgow, Edinburgh (Scotland)
Dublin (Ireland)
Amsterdam (Holland)
Stockholm, Malmo (Sweden)
Wiesbaden (Germany)
Toronto, Montreal (Canada)
Paris (France)
Sydney, Melbourne (Australia)
Copenhagen (Denmark) which was her last concert appearance in March, 1969.

Of course Judy Garland also performed in numerous concerts throughout the years in her homeland, the United States. Nobody gave as much as Judy Garland, incredibly she appeared in well over 1,000 concerts in her lifetime.

She was one of a rare kind, she could sing better than anyone, she could act better than anyone and she could dance better than anyone, even when on a bad day. She danced onstage during many of her live concerts, much to the sheer delight and awe of her devoted audiences. Judy Garland was always an accessible star to her fans too, she was more than happy to sign autographs for fans and chatted abit. Her abilities went far beyond voice alone. The essence of Judy Garland's art is emotion. She can take an average song and burn right through the lyric, projecting pure emotional substance.

Moreover, when Judy Garland was on stage or screen, it didn't matter who she danced with, it didn't matter who she was talking to in any particular scene, or whenever she sang, your eyes were always fixed on her.

In concert, she is best remembered for her performance at the Carnegie Hall in New York City (1961), which was sold out in spite of heavy rain, and is considered one of the greatest live performances ever. She also made successful appearances at the London Palladium in England.

Her Australian tour in 1964 caused the most controversy in her entire career, and became big news around the world. Although her concert in Sydney were positive, her performance in Melbourne was a disaster for her. The audience was angry over her late appearance, then when she finally appeared on stage after an hour late, she forgot the lyrics to songs, and slurred those lines which she remembered. It was obvious she was ill from the medication abuse and it was a very sad time for Judy Garland. She left the stage in tears after only 20 minutes and she was booed and heckled by the sellout audience of 70,000 people. She later characterized the Melbourne crowd as "brutish". It was the first time in her career that she received negative publicity.

Judy Garland still shines as bright as ever in the hearts of those who loves her. Sometimes she may be unpredictable, unreliable, and undependable, but she's also talented, and her talent has saved her from disaster on many other occasions. When a new day arrives, Judy Garland would always find the humour in everything and move on.