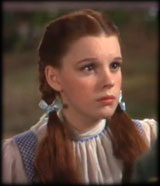 Judy Garland as Dorothy in The Wizard of Oz (1939)
The singing, dancing and acting talent is in Judy Garland's blood. She was born into a show business family and show business was the only life she ever knew. Her parents, Frank and Ethel, used to be theatrical entertainers (vaudevillians) themselves before Judy Garland was born. Her mum was also gifted in playing various musical instruments, so was Judy. Frank and Ethel basically wanted their children to follow in their footsteps with their career paths.

When Judy Garland (Frances Gumm as her birth name) was born in 1922, her dad Frank owned and operated a theatre. The future superstar made her first stage performance at the age of two and a half when she appeared with her two older sisters, Mary Jane and Dorothy Virginia, singing Jingle Bells from the stage of their father's movie palace.

Eventually, Judy Garland joined her older sisters in a theatrical entertainment billed as the Gumm Sisters. Her career then extended into movies, records, radio, television, and personal appearances and she achieved unsurpassed artistic and popular successes in everything she did. After a fabulously successful movie career she became famous for her highly charged, emotional, live performances.

Judy Garland is without doubt the most naturally gifted singer, dancer and actor in the world. She is definately the best all-round performer that we have ever seen. Do you remember the old saying that practice makes perfect? Well, Judy Garland has been doing it nearly her entire life to the point that the studio is like her home. Unfortunately, one of the sad things about her life is that she was frequently ill because she was always required to work too much.

Judy Garland's powerful singing voice is amazing, and she was at her best especially during her teenage and young adult years. By the time she reached her late 30's, her singing voice faltered, and she suffered from the effects of the drugs that were prescribed either to energize or tranquilize her.

She was always a very skilled dancer and actor in her entire life, but during the later stages of her career she was considered difficult to work with, and she had a habit of showing up late to work, whether to perform on screen or stage. Nobody can blame her for this because if she is constantly overworked, forced to take pills and eat less to stay thin then obviously there will occasions where she is just too tired and sick. Judy Garland is also the kind of person that when asked nicely, she does things quickly.

Whenever Judy Garland performs, she is just a delight to watch. This superstar with an extraordinary talent in singing, dancing and acting is not matched by any of today's Hollywood stars and never will.