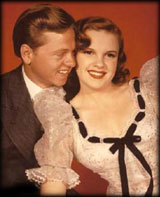 Judy Garland and Mickey Rooney starring together in Strike Up the Band (1940)

Judy Garland and Mickey Rooney paired together in many Hollywood musical films in the late 30's and early 40's, for a total of nine films when they were still in their teens and young adulthood. Mickey Rooney is around two years older than Judy Garland.

They are considered a winning formula and one of the best teams in movie history. They already knew each other through Hollywood Professional School where all the young stars in show business go to study, but when they were paired for their first film together in "Thoroughbreds Donít Cry" in 1937, they formed a stronger friendship and they eventually loved each other as best friends throughout the years from working extensively together at the studio and doing promotional tours.

It was not until 1963, nearly twenty years since the public had seen Judy Garland and Mickey Rooney together, when Mickey appeared as Judy's special guest in the "The Judy Garland Show".

Separately, their lives paralleled. They each suffered through several failed marriages. Each struggled with addiction to drugs. Mickey recovered from his battle with drugs and tried to help Judy. Nevertheless, Judy would eventually lose that battle and pass away.

Many people believe that Judy Garland and Mickey Rooney were perfect for each other, and that if they married each other Judy would have lived much longer than 47 years old. Well, we will never know but Mickey Rooney is still kicking at 90 years old.

Mickey Rooney wanted to marry Judy Garland in the past but he wasn't her type, as a husband that is, but then again nobody seemed to be compatible with Judy Garland considering that she has been married 5 times, and Mickey Rooney has been married a whopping 8 times.

So judging by their history of marriages, we don't think a marriage between Judy Garland and Mickey Rooney would have lasted very long. They would have found ways to break up, and hearts would have been broken. We think it's better for them to be best friends than lovers. They are both lovely and multitalented people. Mickey Rooney once said in an interview regarding Judy Garland that "She was the love I'd search for."

When Judy Garland's death shocked the world on June 22, 1969, Mickey attended the viewing at the funeral home but was too devastated to attend the service. Judy Garland's daughter, Liza Minnelli originally wanted Mickey Rooney to deliver Garland's eulogy, but instead it was read by Judy Garland's co-star from "A Star is Born," James Mason.

When asked recently about Judy Garland, Mickey Rooney comments, "She's the greatest performer. No one has been her equal."