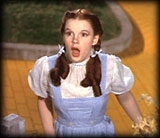 Judy Garland as Dorothy in The Wizard of Oz (1939)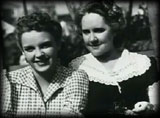 A smiling Judy Garland with mum Ethel Gumm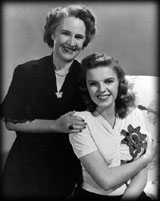 Judy Garland with mum Ethel in happier times
Judy Garland was the famous child star in The Wizard of Oz. Since the trio "Gumm sisters" sang and danced together in their vaudeville days, her two older sisters never rosed to fame, while Judy Garland went on to make a successful career in film and music.

Judy Garland was the darling of showbiz, and the tabloid media became more interested in her personal and family life. One of the things people found out in later years about Judy Garland is that she had alot of anger and hatred towards her mother, Ethel Gumm. In a 1967 interview with Barbara Walters (yes, she was still doing interviews back in those days), Judy Garland only had negative things to say about her mother. Two years later, Judy Garland passed away.

She described her mum as a "mean one" who was very jealous because she had no talent. Judy Garland also mentioned that her mum would stand in the wings of the theatre when she was a little girl, and she was forced to sing even though she was sick and didn't feel good, because her mother threaten her by saying, "you get out and sing or I'll wrap you around the bed post and break you off short".

From the day Judy Garland was born, she felt unwanted because her mum wasn't interested in having a third child so she attempted to abort her. Thankfully, the great one who sits above the sky didn't agree with her mum's wishes. Her mum came to accept that she'd get a third child, but then another disappointment came when a girl came into the world on 10 June, 1992. Her parents wanted a boy so they named their third child as "Frances Ethel Gumm" to their dismay.

And it's sad to think that while a pregnant Judy Garland was still employed at MGM, her mother and studio boss (Louis B. Mayer) forced her to get an abortion so she can continue to work and make them money. It seemed that the studio didn't really care about Judy Garland, and they only saw her as a commodity to be used, and then discarded when she was of no value to them. In the old days, studios "owned" their stars and they engineered their public lives.

We also learn that Judy Garland resented her mother for dragging her around places since she was 3 years of age, so that she could perform and earn money. Her mum also took all the money that she earned from The Wizard of Oz. She felt used as a meal ticket and the only person she thought really loved her was her father when he was alive. She felt bitter that her mum and the studio kept her from going to the hospital to be by her father's bedside before he died when she was 13 years old, because she had to honor her radio commitment.

Judy's mother Ethel Gumm, remmaried later on. She secretly married on the anniversary of Judy's father's death, and Judy Garland had never liked the man who her mother had chosen to marry, but she had dealt with it. However when her mum remmaried on the anniversary of her dear fathers death, Judy Garland was furious. From that day on there were mixed feelings between Judy Garland and her mother, and she never forgave her mum for it.

Judy Garland had other issues of her own including addiction to prescription drugs through no fault of her own, because she didn't get any guidance when she was young. When her dad passed away, her mum was left to do anything she pleased and take total control of her. She gave her pills regularly and never realised the long term affects. Her mother was not an evil person by any means, but she didn't really know how to protect and teach her youngest child, Judy Garland. She is to blame for the way she treated Judy and not guiding her in the right direction. It seemed that anything MGM tells her mum, she would agree to go along with it.

Her mum died in 1953 when Judy Garland was 31 years old. Judy Garland was forced to work long hours most of her life to pay the bills for her mum, and she was not wanted at birth. The latter upsets Judy Garland the most about her mother. Judy Garland later called her mother "the real Wicked Witch of the West."

Some people also believe that Judy Garland never found it easy to blame herself for the things that went wrong in her life and she blamed those nearest to her. Her mother Ethel became a convenient scapegoat.