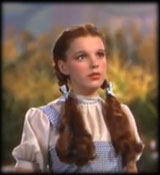 Judy Garland as Dorothy in The Wizard of Oz (1939)

Judy Garland had an incredible life as a singer and actress. She made successful movies and a fortune for Metro-Goldwyn-Mayer (MGM) when Louis B. Mayer was in charge. She was a very gifted woman who made a huge impact on the world of music and film. Yes, she was talented indeed, but she was also a cute young girl who grew up to be a very beautiful woman inside and out, but she didn't consider herself beautiful physically, poor thing.

During Judy Garland's time, you needed to have talent and good looks to be a movie star. Big names and glamorous ladies like Elizabeth Taylor, Marilyn Monroe, Lana Turner, Ava Gardner and pin-up girl Betty Grable were the sex symbols back in the days of Judy Garland, and she was always surrounded by beauties at school and at the studio, and that made her feel insecure about herself.

Studio boss, Louis B. Mayer also used to affectionately call Judy Garland "my little hunchback", and often told her that she was fat so that didn't help matters either. The thing about Judy Garland is that she always had class, grace, talent and beauty. Real stars of her calibre is hard to find in the world of Hollywood these days.

Judy Garland was exactly 4 foot 11.5 inches, which is about 151 centimetres. She isn't tall by American/Western standards. But having said that, she isn't a midget either. She probably would have grown a bit taller if she lived her life like normal kids, but then she wouldn't have been a world famous superstar. Judy Garland doesn't look short when seen on screens, but her small build could also have been the reason why she thought that she was "ugly".

At a young age, Judy Garland was exploited for our entertainment and this probably contributed to her failure to develop her whole body. While she was under contract with MGM, she was required to work long hours and her growth was restricted by the food limitations, lack of rest and sleep deprivation. Always outside home to practice, rehearse and perform is not great for young people when their body is still growing.

The studio also drugged up so much on uppers when she was just a child so that she wouldn't fall asleep while she were shooting all those musical films. She then had to take downers to relax. MGM felt they had to get their moneys worth from their young starlet.

Judy Garland once said "I'm sick and tired of being called 'poor Judy Garland'. Maybe this will distress a lot of people but I've got an awfully nice life. I really have. I like to laugh. I like to have a bag of popcorn and go on a roller-coaster now and then. I wouldn't have been able to learn a song if I'd been as sick as they've printed me all the time".