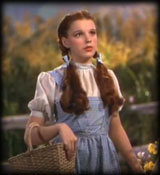 Judy Garland as Dorothy in The Wizard of Oz (1939)

Judy Garland is such a legend and a gift from above, she was described as the "little girl with the big voice". It's pretty obvious that her voice and musical talents was very unique and we don't think that anyone can ever match her talents. She always gave her all at a performance for her fans.

Every singer loves singing all of their songs, but they will have a favourite song or two that is known among their close friends, and later become known publicly.

Judy Garland always loved and had high opinions of her most famous song "Somewhere Over The Rainbow" from The Wizard of Oz musical film. She once said "I've always taken The Wizard of Oz very seriously, you know. I believe in the idea of the rainbow. And I've spent my entire life trying to get over it."

Her other favourite songs included "It Never Was You" and "I'd Like To Hate Myself In The Morning". Another song called "Zing! Went The Strings Of My Heart" is one that Judy Garland really cherished and held dearly in her heart because she sung it live on radio for her dad when he was dying in hospital, she was 13 years old at the time. He died the next day and she never saw him alive again.

Judy Garland was a great performer and she was also a very educated person. She wrote a collection of poems during her teenage years, but she didn't write any of her songs because there wasn't really any need to. Back in the 1930's and 40's, Judy Garland had songwriters who wrote songs specifically for her. There weren't many independent singer-songwriter types back in those days.

When we take a look back at some of Judy Garland's famous songs apart from "Somewhere Over The Rainbow", there's some other nice Judy Garland songs including but not limited to "Get Happy", "The Man That Got Away", "Gotta Have Me Go With You", "It's So Lovely To Be Back Again In London", and "The Trolley Song".

Judy Garland is simply the best in the world. She left the Earth a long time ago, but her musical legacy lives on. Her singing voice is amazing, her music is inspirational and inviting, that makes the young and old from all over the world fall in love.