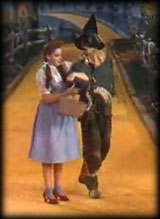 Judy Garland as Dorothy in The Wizard of Oz (1939)
It would be hard to find a unique voice that captures the audiences and television viewers eyeballs. A voice that leaves everyone breathless with devotion. It's the voice that soars with inspiration, soul and warmth. The voice of course belongs to the late US singer-actress Judy Garland.

Judy Garland possesses what is undoubtedly the most versatile and stunning voice of all time, making her the most hottest talented superstar! Her acting talents aside, she has both a beautiful talking voice and singing voice, something that is rare to find. Judy Garland's voice is truly remarkable, that even if she were to sing without any musical instruments, she would still sail through the song with ease and perfection.

Little Judy Garland, or Frances Gumm as she was known in her early years, started singing and dancing when she was abit over 2 years old, and that itself is amazing. She didn't just sing in her room like most of us, she sang on stage for a live audience during the holiday season in 1924. The song was "Jingle Bells" and it was the only song she knew at such an early age, and she used a little jingle bell for her only music.

Then a few years later, Judy Garland and her sisters had a vaudeville act named the "Gumm Sisters". From 1927 through 1935 they toured the United States with their mother, Ethel Gumm, who was the girls' agent and manager, and began finding bookings for the girls in theatres, night clubs and on radio.

Judy Garland is best remembered as the big-voiced star of a series of movie musicals, particularly The Wizard of Oz, in which she sang her signature song, "Somewhere Over The Rainbow" and she had a following of fans all over the world.

But unlike most other movie stars of her era and today, she also maintained a career as a recording artist, and after her movie-making days were largely over, she was able to transfer her stardom to performing and recording, culminating in her Grammy-winning number one album "Judy at Carnegie Hall".

Judy Garland had alot of talent, however it was her beautiful singing voice that really gave her a successful career in the entertainment industry. Nearly five decades of acting, singing, and sell out concerts have cemented Judy Garland as a true diva. She would always light up an occasion with her gorgeous personality and the best female voice ever.







Judy Garland singing at the age of 13.



Judy Garland's network radio debut was on "The Shell Chateau Hour" on October 26, 1935, hosted by Wallace Beery. Beery introduced her as a 12 year old, but she was actually 13 years old because her parents had told MGM that Judy was born on January 10, 1923. Still, a great singing voice for a 13 year old girl.