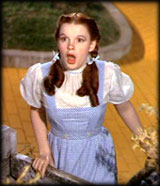 Judy Garland as Dorothy in The Wizard of Oz (1939)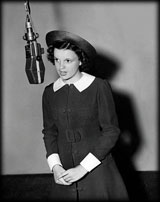 Judy Garland sang at her best with Decca Records when she was a young actress at MGM
American superstar Judy Garland performed in her first full-length movie, 20th Century Fox's "Pigskin Parade" (1936), an unlikely comedy about football and radical politics that depends on confusion for its laughs.

Amid the touchdowns, the 14 year old sings "It's Love I'm After", and her innocent poise plus her voice made an impression on both Hollywood and the recording industry.

In recognition of her vocal talent, Decca Records signed her to a contract in 1936, and Miss Garland immediately began to issue a steady stream of recordings with big-name orchestras. She would, during the remainder of the 1930's, cut dozens of sides for the label.

Shortly thereafter, Metro-Goldwyn-Mayer (MGM), the leading producer of movie musicals, cast her in "Broadway Melody of 1938" (released in 1937). After Judy Garland's tenure with Decca Records ended in 1947, she began recording albums for MGM, Columbia, Warner Bros. and Capitol Records.



The list below are Judy Garland's hit songs for Decca Records only. She also recorded some songs multiple times with Decca Records, but we have only provided the year of her first recording.


Year
1936
1937
1937
1937
1937
1938
1938
1938
1938
1939
1939
1939
1939
1939
1939
1939
1939
1939
1939
1940
1940
1940
1940
1940
1940
1940
1940
1940
1941
1941
1941
1941
1941
1941
1942
1942
1942
1942
1942
1942
1943
1943
1943
1943
1943
1943
1943
1944
1944
1944
1944
1944
1944
1944
1944
1945
1945
1945
1945
1945
1945
1945
1945
1945
1945
1945
1945
1945
1946
1946
1946
1946
1946
1947
1947

Title
Swing Mr. Charlie
Everybody Sing
All God's Chillun Got Rhythm
(Dear Mr. Gable) You Made Me Love You
You Can't Have Everything
Cry, Baby, Cry
Sleep, My Baby, Sleep
It Never Rains But What It Pours
Ten Pins In The Sky
Over The Rainbow
The Jitterbug
Embraceable You
Swanee
Zing! Went the Strings of My Heart
Fascinatin' Rhythm
In Between
Sweet Sixteen
Oceans Apart
Figaro
Friendship
The Wearing Of The Green
Buds Won't Bud
I'm Nobody's Baby
(Can This Be) The End Of The Rainbow
Our Love Affair
I'm Always Chasing Rainbows
It's a Great Day For The Irish
A Pretty Girl Milking Her Cow
The Birthday Of A King
The Star Of The East
How About You?
F.D.R. Jones
Poor You
Last Call For Love
For Me And My Gal
When You Wore A Tulip
I Never Knew I Could Love Anybody Like I'm Loving You
On The Sunny Side Of The Street
That Old Black Magic
Poor Little Rich Girl
Could You Use Me?
Embraceable You
But Not For Me
Bidin' My Time
I've Got Rhythm
No Love, No Nothin'
Journey To A Star
I May Be Wrong (But I Think You're Wonderful)
Meet Me In St. Louis
Skip To My Lou
The Trolley Song
Boys And Girls Like You And Me
Have Yourself A Merry Little Christmas
The Boy Next Door
Meet Me In St. Louis
Yah-Ta-Ta, Yah-Ta-Ta (Talk, Talk, Talk)
You've Got Me Where You Want Me
Connecticut
This Heart Of Mine
On The Atchison, Topeka And The Santa Fe
If I Had You
You'll Never Walk Alone
Smilin' Through
Love
On The Atchison, Topeka And The Santa Fe
In The Valley (Where The Evening Sun Goes Down)
Swing Your Partner Round And Round
It's A Great Big World
For You, For Me, For Evermore
Aren't You Kinda Glad We Did?
Changing My Tune
There Is No Breeze (To Cool the Flame of Love)
Don't Tell Me That Story
I Wish I Were in Love Again
Nothing but You


Judy Garland singing at the age of 14 back in 1936.



Judy Garland singing "It's Love I'm After". Her beautiful and powerful voice caught the attention of Decca Records, and they did not hesitate to give her a contract.