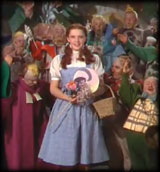 Judy Garland as Dorothy in The Wizard of Oz (1939)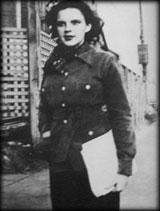 Judy Garland at her first working day at MGM (1935)

As you are probably already aware, FreeMusicalEcards.com is dedicated to Judy Garland, and it's fitting because she is the reigning queen of the musicals. We love her to bits, we love her music and movies, and we really feel sad and sorry for some of the things she went through during her life.

In this article, we will discuss about Judy Garland and her ups and downs. Unless we have reincarnated, many of us especially the younger generation didn't live in her era, let alone met her, but she is still dearly loved and adored by fans. Unlike many of the stupid and spoilt Hollywood celebrities of today, no one will look at Judy Garland's life and career and say that she was a bad person. She was a beautiful, bubbly but emotional person, who cared about her fans and was a great mother.

In our opinion, Judy Garland has the best female singing voice in the world. Michael Jackson gets the honor for the best male singer. Both are original, but the way Judy sings really touches you, and just leaves you breathless. She had an amazing sweet, but powerful voice and she can act very well too. Most of today's stars can't sing and act at the same time, usually they have ability in just one of them. In the olden days, actors and actresses like Judy Garland where in high demand because many musical films require strong acting and good singing. Apart from her singing and acting skills, she was also a very talented dancer and comedian, she was the full package really, something that is rare to find these days.

Judy Garland isn't her real name. She was born Frances Ethel Gumm on 10 June 1922 in Minnesota, the youngest in her family with two older sisters. Most celebrities don't use their birth name for various reasons, but "Gumm" sounded abit funny. Frances and her siblings used to do vaudeville shows together as "The Gumm Sisters," and the audience would laugh every time their name was announced. Vaudeville veteran George Jessel eventually suggested that they change their names for that very reason, and Frances chose "Judy" based on a popular 30s song. How her surname came about is a mystery but it could be named after film critic Robert Garland. Also George Jessel once declared the sisterly trio was "prettier than a garland of flowers", so take your pick. Interestingly, although she has been using "Garland" as a stage name since she was a teenager, she didn't legally change her name until 1967.

Her childhood was extremely unhappy as she spent most of it on the road with her mother and sisters looking for nightclubs, hotels and theatres to perform in, often living out of their rented automobile, as well as dealing with poverty and the stigma of having a homosexual father. He loved his children, and Judy Garland also loved him, but rumours about her father's sexual activities were extremely painful to her as a young girl.

Judy's mother was a classic stage mother, enjoying the attention and perks that came from being a part of her daughter's entourage. Judy Garland eventually rebelled against her controlling nature. While still living under her mother's watchful gaze, she signed with a media company called MGM, who asked a great deal of her when she was a teenager. MGM deserves alot of credit for their role in the destruction of this sensitive, high-strung performer. Judy Garland turned to pills for the first time after they were "prescribed" to her by studio doctors. They were meant to slim her down, give her energy to work, help her sleep and wake up. Sadly, she became addicted to them for the rest of her life.

She appeared in the Wizard of Oz in 1939 and after fifteen years of toil, she was finally able to end her contract with MGM. Judy Garland went on to play legendary concerts at Carnegie Hall in New York City and other venues. Her childhood insecurities continued to haunt her as she aged, plunging her further into drug abuse. Judy Garland also struggled with debt, failed relationships, and a tarnished reputation in the industry. After several unsuccessful suicide attempts, Judy died of accidental overdose of sleeping pills at age forty seven, leaving behind a son, Joey Luft and two daughters, Liza Minelli and Lorna Luft.

Judy Garland suffered through pain in her life, but at the same time she had a wonderful life as the world's greatest entertainer both on film and on stage. She enjoyed doing what she did and she accomplished everything she dreamed of, and that is dedicating her life to entertaining people, and in that she succeeded where others have not.