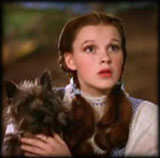 Judy Garland as Dorothy in The Wizard of Oz (1939)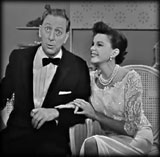 Judy Garland and her Wizard of Oz co-star 'Scarecrow' Ray Bolger on "The Judy Garland Show"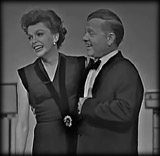 Judy Garland and her old friend Mickey Rooney on "The Judy Garland Show". Guests "touch" her too!
Judy Garland was a superstar for her acting and singing. They gave her a successful career and they were the only things that she really wanted to do.

However, during the later stage of her career, particularly in the 1960's, Judy Garland's health started to deteriorate, so she decided to stop making movies altogether, as well as give up on her live concert performances.

As a result, this left Judy Garland without any money to put food on the table for her children. To make matters worst, she was hundreds of thousands of dollars in debt to the Internal Revenue Service, having failed to pay taxes in 1951 and 1952, so her personal financial problems kept getting bigger.

In desperate need of money, Judy Garland needed to come up with something, and a successful run on television was the chance to secure her financial future, even though she had said previously that she would never do a weekly television series.

Despite a sometimes stormy relationship with Judy Garland, CBS had found success with several television specials featuring the star, so a multi-million dollar deal was done between Creative Management and CBS in 1963 for Judy Garland to host her own musical variety television series to be called "The Judy Garland Show".

Thirteen shows it would turn out, at $150,000 each, on prime time 9pm Eastern Standard Time, Sunday night opposite "Bonanza" (which was one of the most popular programs on American television in those days on NBC), with an option for an additional thirteen if CBS and Judy Garland agreed. It was deemed at the time in the press to be "the biggest talent deal in TV history." If successful, Miss Garland would be a rich woman for the rest of her life, and she and her children would never have to worry again.

CBS built a special dressing room trailor installed for Judy Garland, and the corridor that led from her dressing room to the stage was painted to resemble the Yellow Brick Road from The Wizard of Oz, to make her feel at home.

"The Judy Garland Show" debuted on September 29, 1963 and it gave viewers the closest chance to see what Judy Garland was like in hosting a TV show. It produced some of the finest hours of humour and any musical variety show in history, and despite her troubles at the time of filming, many show Judy Garland at her best singing duets with her guest stars.

Besides guests such as old friend Mickey Rooney and her Wizard of Oz co-star Ray Bolger (Scarecrow), her show was crammed with other popular guests including: Barbra Streisand, Lena Horne, Peggy Lee, June Allyson, Jane Powell, Tony Bennett, Ethel Merman, Donald O'Connor, Steve Allen, Jayne Meadows, Peter Lawford, Vic Damone, Bobby Darin, Rich Little, The Smothers Brothers, Carl Reiner, Diahann Carroll, Bob Newhart and Judy's own daughter Liza Minnelli.

Unfortunately, production difficulties beset the series almost from the beginning. The series would see three different producers in the course of its 26 episodes and would go through a number of other key personnel changes. With the change in producers would also come changes to the format of the show, which started as comedy/variety but would switch to an almost purely concert format.

CBS also made a survey after the first few shows were taped, and some executives thought Judy Garland wasn't herself, that she was nervous, that she was touching everyone too much, and that an obviously unhappy woman was trying to entertain them.

"The Judy Garland Show" didn't help both CBS and Judy financially because it consistently performed poorly in the ratings, despite being nominated for four Emmys. Fans rallied in an attempt to save the series, but CBS announced its cancellation after a single season in 1964. In a letter released by the network, CBS "officially" explained it was Judy Garland who quit the show because she "wanted to spend more time caring for her children".

With the demise of her television series, our beloved Judy Garland found herself even more broke and essentially homeless (the US government had repossessed her house). She escaped to England and had no choice but to return to the stage, even though she was tired, battling depression and losing considerable weight.

Judy Garland unsuccessfully attempted to wipe out her debts with her concert performances, up until just before her death of an accidental overdose of prescription pills just two weeks after her 47th birthday in 1969. While the term has perhaps come to be overused, "show business legend" certainly applies to the incredible woman with the voice that could bring laughter or tears or both to audiences.