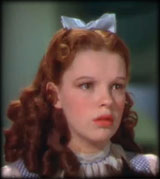 Judy Garland as Dorothy in The Wizard of Oz (1939)

The late singer-actress Judy Garland claimed the hearts of many people when she starred in the 1939 musical film "The Wizard of Oz". At 16 years old, she became an instant superstar when she won an Academy Award, a special Oscar for the best performance by a juvenile, for her lead role as Dorothy in The Wizard of Oz.

Judy Garland later starred in many other films, winning Oscar nominations for A Star is Born (1954) and Judgment at Nuremberg (1961). She also had a successful singing career because she had a beautiful singing voice, but her Dorothy character in The Wizard of Oz is her best known and best loved film role.

Choosing the girl to play Dorothy in the Wizard of Oz didn't exactly go smoothly for MGM studios. Although The Wizard of Oz producer Mervyn LeRoy had always had Judy Garland in mind for the role, he was being pressured to "borrow" Shirley Temple from 20th Century Fox Studios because of her child star status.

Shirley Temple was under contract to Fox, she was only 10 and Judy Garland was 16 at the time. Studio executives thought 10 was a much more appropriate age for this particular role. They ended up auditioning Shirley just to say they had, but in the end it didn't matter anyway: Fox refused to loan her out.

A young Shirley Temple was abit of a show-off, while Judy Garland had a more youthful innocence and natural acting talent. You can't imagine anyone but Judy Garland playing the role as Dorothy. The Wizard of Oz wouldn't be great without her because it's a musical film, and Judy's singing voice is the best in the world.

Her rendition of the iconic song "Somewhere Over The Rainbow" is nothing short of amazing, and no one will ever sing it better than she did. She is a true star in every sense of the word. The Wizard of Oz won an Academy Award in 1940 for Best Song ("Somewhere Over the Rainbow") and it has since become Judy Garland's signature song.

The shooting of The Wizard of Oz took place in Culver City, California and it went for 6 months. (Started on October 13, 1938, and was completed on March 16, 1939). Judy Garland worked very hard through the intense shooting schedules. She worked six days a week and had to arrive at the studio as early as 4:00 or 5:00 in the morning, to be fitted with her costume, makeup, get her hair done and everything, and she would not leave until 7:30 or 8:00 at night. So as you can see, the working hours were long, and the time off from work were short.

The Wizard of Oz was released all over America on August 25, 1939, but it had its first premiere screening, in Wisconsin of all places, on August 12, 1939. Other countries eventually got to see it. The wonderful thing about The Wizard of Oz is that it will never disappear from our TV screens because it's a classic movie. Every generation of people in the West will watch it at some stage in their life.

Judy Garland's greatest film role and her rise to superstardom, the memorable songs and costumes, and mixture of sepia tones and bright technicolor (which was still relatively new back in those days), all make The Wizard of Oz the most watched film in history.







Judy Garland (Dorothy) singing "Off To See The Wizard"


in her adult years with Ray Bolger (Scarecrow) in The Judy Garland Show